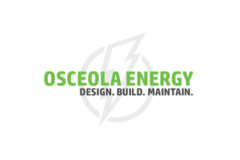 28 Dec

Osceola Energy Solar

Osceola Energy is an Engineering, Procurement and Construction (EPC) contractor operating out of Albuquerque, New Mexico. We offer a comprehensive spectrum of services for sustainable "green" construction projects including solar, wind, and energy efficiency and handle everything from: capital acquisition, engineering, permitting, and procurement, to construction. By handling all aspects of our clients' energy projects, we create a simple, low stress experience.
WHY CHOOSE US? – WE'RE THE BEST!
2017 Top Solar Contractor – Solar Power World
Osceola Energy Solar ranks among the top solar contractors in Albuquerque for rooftop, commercial, and residential solar installation throughout the United States by Solar Power World Magazine. Your local hometown Albuquerque solar company which serving, Santa Fe, Belen, Los Lunas and Taos, is recognized as a top solar company in the nation!
Osceola Energy has also Won 2016 Best Green Construction Services Company in the Southwest by Clean Energy Magazine as well as being recognized by Albuquerque Business First on it's top 10 list for offering mindful solar designs as well as our A+ BBB rating and 5 stars on Yelp, it's easy to see why Osceola Energy Solar is the best solar company in Albuquerque.
Contact Osceola Energy Solar
Address: 3004 2nd St. NW, Albuquerque, NM 87107
Phone: (505) 850-8863
Email: galinak@osceolaenergy.com
Websites: Osceola Energy Solar